Study uncovers new genetic resources for wheat disease resistance in Kazakhstan
A genome-wide association study of more than 190 spring and winter wheat lines and varieties by CIMMYT and Kazakhstan scientists identified wheat chromosome segments that give the crop genetic resistance to two damaging races of tan spot, a foliar disease that can cut wheat harvests in half.
Caused by the fungus Pyrenophora tritici-repentis, tan spot increasingly threatens wheat in Central Asia and particularly Kazakhstan, a major exporter of wheat grain to northern Africa, Central Asia, and Europe.
"Bread wheat is the most important crop in Central Asia, and is directly linked to food security; 45–60% of inhabitants' daily calories come from wheat," said Alma Kokhmetova, professor and head of the Genetics and Breeding Laboratory at the Institute of Plant Biology and Biotechnology (IPBB), Kazakhstan.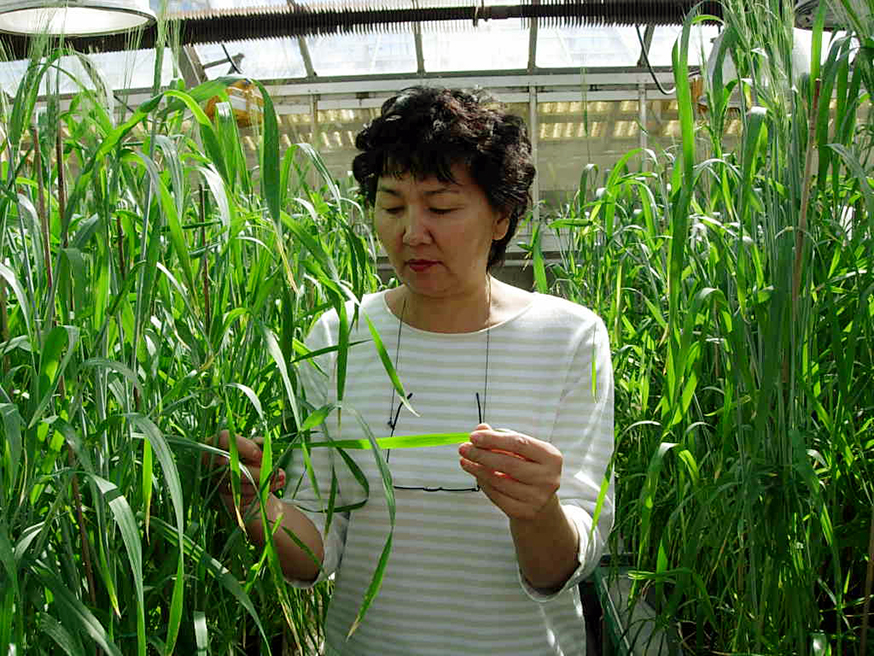 Water scarcity limits wheat yields in Kazakhstan. Average annual precipitation in key wheat areas just barely meets the crop's needs and a severe and prolonged drought has reduced harvests as much as 18%. To help capture and retain moisture from rains and snow, farmers on over two million of Kazakhstan's 15 million hectares of wheat land practice zero tillage: sowing seed directly into unplowed soils and residues from previous crops.
Unfortunately, the tan spot fungus thrives in crop straw left on these unplowed soils. Rather than abandon climate smart-farming practices, farmers can control the fungus by rotating the wheat with non-susceptible crops, removing or plowing over crop residues, and using fungicides.
The best solution, however, is wheat that possesses genetic resistance.
Genome-wide association studies focus on millions of single-nucleotide polymorphisms in the wheat genome, allowing scientists to "dissect" the genetic architecture of traits such as disease resistance and to identify new genes or beneficial versions of known genes. This study included breeding lines from Kazakhstan and wheat samples from Brazil, Russia, CIMMYT, and the International Winter Wheat Improvement Program.
Using the study findings, the scientists identified 25 wheat lines that offer allelic combinations for resistance to the two most damaging races of tan spot fungus in Kazakhstan.
This work was funded by the Kazakhstan Ministry of Education and Sciences. Technical support of IPBB Laboratory staff was greatly appreciated.