Stress-resilient hybrids help maize farmers in tropical rainfed conditions in Africa and Asia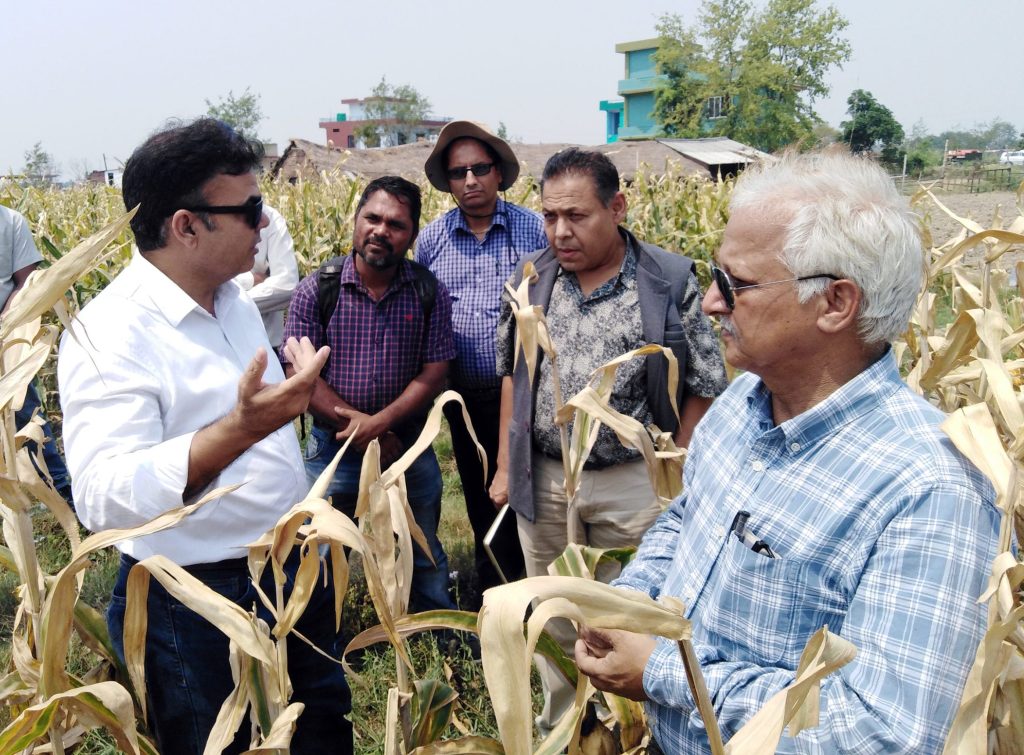 Droughts, high temperatures, and fall armyworm are recurring stresses for maize farmers in Africa and Asia, but stress-tolerant maize varieties and integrated pest management can protect both crop yields and the livelihoods of smallholders.
Heat-tolerant hybrids developed and deployed in India
Small-scale maize farmers grappling with erratic rainfall in Karnataka, India, who adopted a new drought- and heat-tolerant maize hybrid are harvesting nearly one ton more grain per hectare than those who planted stress-vulnerable varieties.
Climate-resilient hybrid RCRMH2 was developed in 2015 by CIMMYT and deployed in partnership with the University of Agriculture Sciences, Raichur (UAS-R), Karnataka, under the Heat Tolerant Maize for Asia (HTMA) project.
"This hybrid is a boon for our stress-prone areas, as it gives guaranteed yields in a bad year," said Hanumanthappa, a farmer and adopter of the variety in Gadag District. "Not only can it feed my family, but also my cattle," he added, as the leaves and stems can be used for livestock fodder thanks to the hybrid's "stay-green" trait.
A 2018–19 survey of farmers in Gadag District with poor rainfall and in Dharwad District with good rainfall, released in 2021, found that farmers there who grew the hybrid harvested 0.96 tons more grain and earned $190 per hectare more than neighbors who did not adopt the hybrid.
The crop also produced larger kernels than other hybrids under drought conditions, bringing a better sale price to farmers.
Fall armyworm management in Africa and Asia
Host plant resistance is an important component of integrated pest management of fall armyworm, which continues to be a major threat to maize-dependent farmers in Africa and Asia. In the last five years, CIMMYT's team in Africa identified three maize hybrids with tolerance to fall armyworm, which are licensed to national partners in 12 countries and undergoing national performance trials.
Published in 2021, "Fall Armyworm in Asia: A Guide for Integrated Pest Management" emphasizes an intensive, science-based response strategy to mitigate the fall armyworm challenge. "While the publication is focused on Asia, it provides an updated understanding of various components of fall armyworm integrated pest management that could also benefit stakeholders in Africa," said B.M. Prasanna, Director of CIMMYT's Global Maize Program and CGIAR Research Program on Maize.
CIMMYT's work on fall armyworm management received funding support from the CGIAR Research Program on Maize (MAIZE) and the United States Agency for International Development (USAID) Feed the Future initiative.