A view from above
Adopting a different perspective, CIMMYT researchers are helping breeders advance crop improvement and farmers make better crop management decisions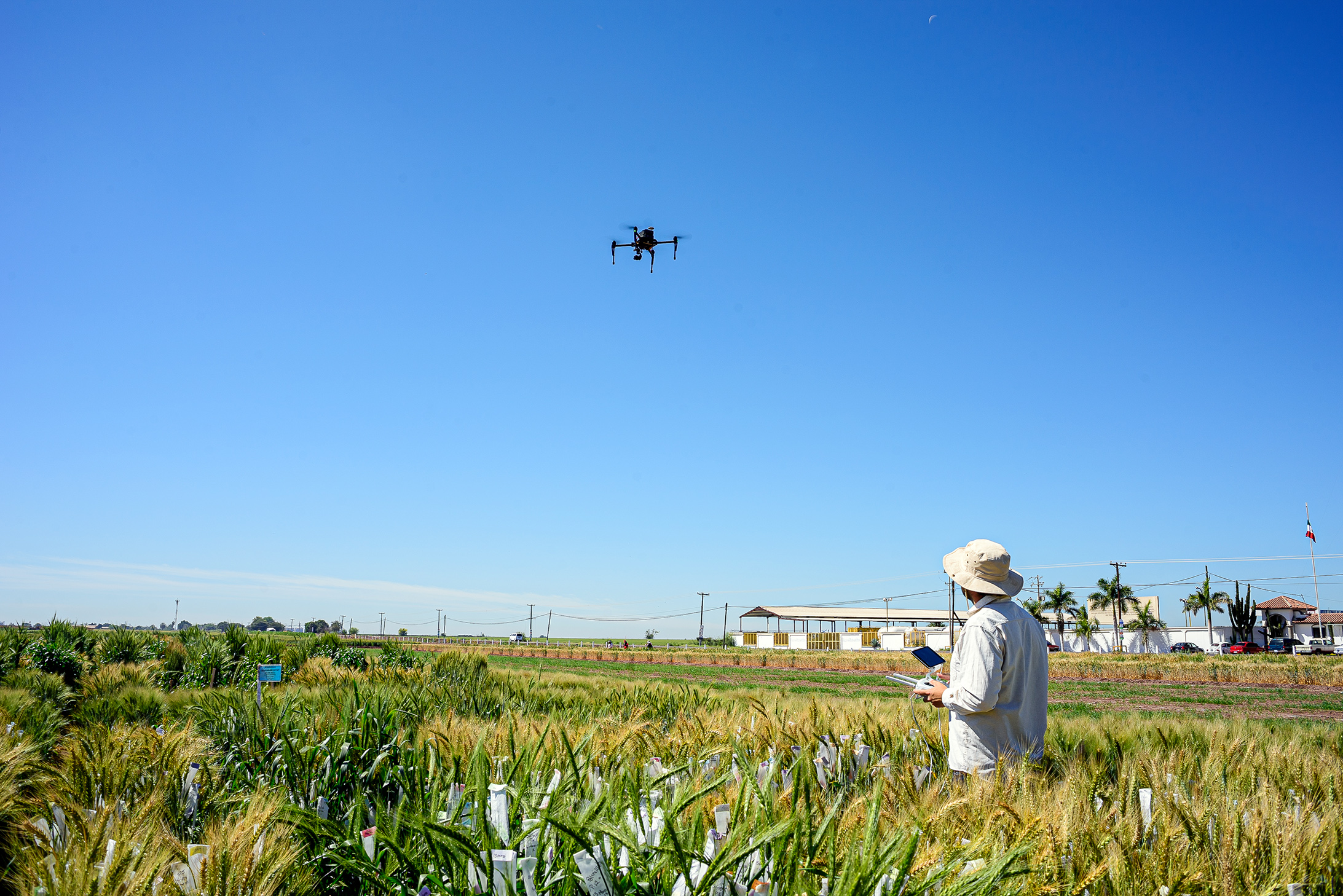 Esta historia también está disponible en español: Una vista desde lo alto
CIMMYT scientists have been using drones and other remote sensing tools to conduct high-throughput plant phenotyping, track pests and diseases, and detect land boundaries, as well as other applications for a while. But combining this technology with satellite imagery is proving to be game-changing.
With satellite imagery, scientists can replicate findings across farmers' fields. Integrating these two "bird's eye" technologies into decision support systems allows scientists, farmers and decision-makers to improve crops on a global scale at a low cost.
Measuring plant height with high-powered drones
In early 2021, scientists from CIMMYT, Brazil's Federal University of Viçosa and the private seed company KWS Momont Recherche successfully used drone technology to measure wheat crop height at four stages of growth. The scientists found that estimates gathered from drones were similar in accuracy to ground-based measurements.
Advancing assessment of pests and diseases
Drone imagery analysis enables scientists to make more objective disease severity assessments and speed up the development of disease-resistant maize varieties.
Using drone-based imaging, CIMMYT scientists and their research partners have improved the assessment of tar spot complex, found in Central and South America, and maize streak virus disease, present in sub-Saharan Africa.
Remote sensing experiments at test sites across Mexico have secured similar achievements with other common foliar wheat diseases, septoria and spot blotch.
Scientists have also been testing deep learning algorithms — computer algorithms that improve performance over time by adjusting to or "learning" from new data — to automate the assessment of leaf disease severity. This work, in partnership with the Federal University of Technology in Parana, Brazil, already suggests promising results.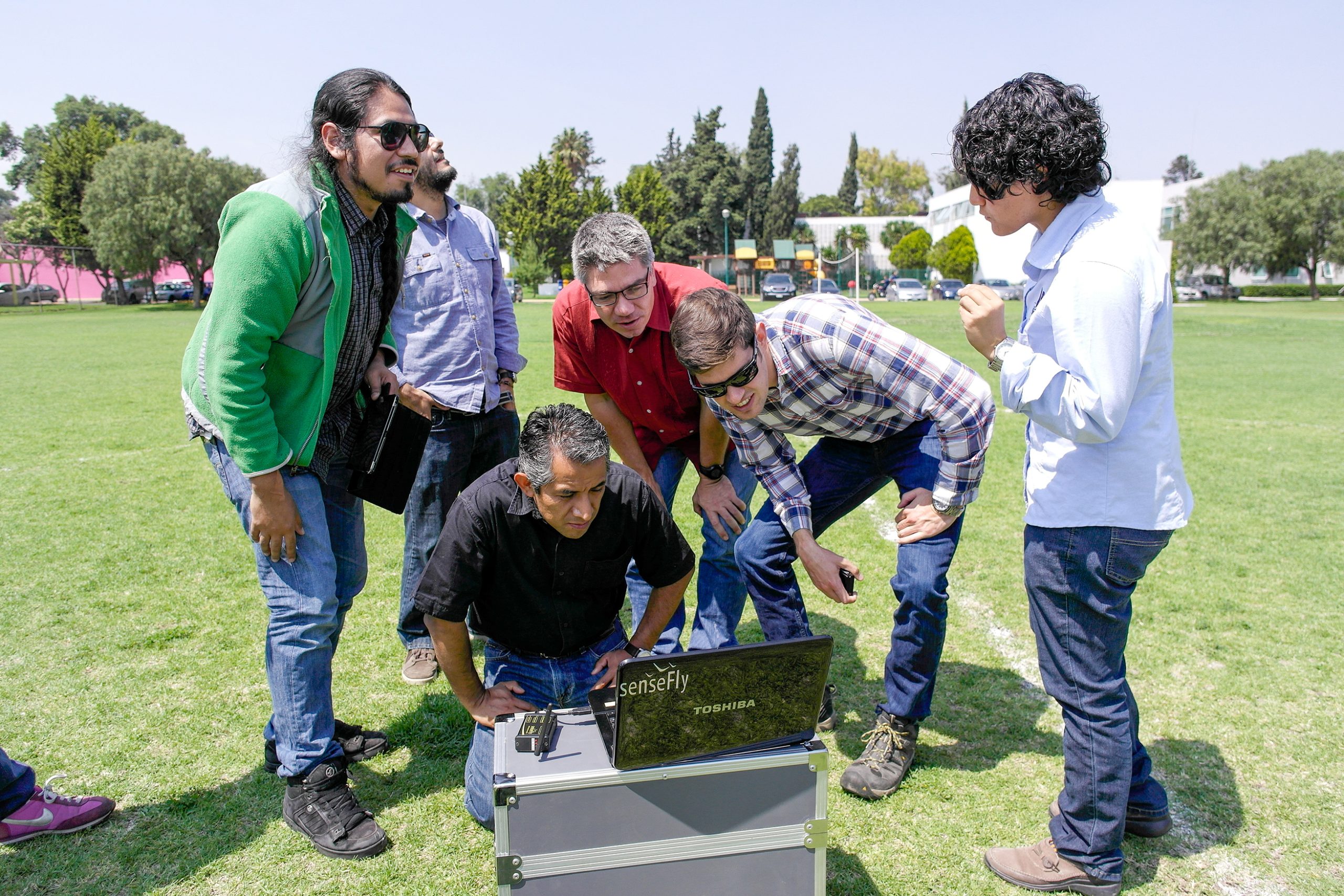 Improving forecasts for crop disease early warning systems
In Ethiopia, a team from CIMMYT, the Catholic University of Louvain (UCLouvain), the University of Cambridge and the Ethiopian Institute of Agricultural Research (EIAR), are pioneering a world-leading wheat rust forecasting service using remote sensing solutions.
For farmers, wheat rusts can cause devastating losses in only a matter of weeks by destroying healthy wheat plants; early detection through warning systems is fundamental for prevention. The disease's potential existence can be predicted through a forecasting service, but the susceptibility of each plant to the disease is not yet known.
CIMMYT is trialling the use of drones and high-resolution satellite imagery to identify the presence of wheat rust and monitor the disease's progression, based on data from control field experiments and farmers' own fields.
With added expertise from the remote sensing lab at UCLouvain, the research team is now determining whether satellite data from the European Space Agency can aid mapping crop type distributions in Ethiopia.
Expert irrigation and sowing advice straight to farmers
Valuable data on irrigation scheduling and optimum sowing dates is now delivered directly to farmers in northern Mexico via the COMPASS smartphone app. The initiative, funded by the UK Space Agency, also enables farmers to assess weekly Normalized Difference Vegetation Index (NDVI) images of their fields and record their crop management activities.
Detecting field boundaries using high-resolution satellite imagery
Results from a study in Bangladesh found that innovative machine learning algorithms could detect the boundaries of agricultural fields based on high-resolution satellite images, which will help farmers with crop production and securing financial support.
Scientists from CIMMYT and the University of Buffalo used high-resolution satellite imagery to automatically create field boundaries. Knowing the size of their land helps farmers to access affordable credit to buy farm supplies and apply the correct amount of fertilizer to their land.
Developing climate-resilient wheat
Building on a decade of research, our wheat physiology team is implementing new high-throughput phenotyping approaches with the Heat and Drought Wheat Improvement Consortium (HeDWIC).
The team's work involves evaluating, validating and implementing remote sensing platforms for high-throughput phenotyping of physiological traits, ranging from canopy temperature to chlorophyll content, which indicates the greenness of a plant. High-throughput phenotyping requires quick and accurate phenotyping of many genotypes or plots.
These new approaches will assist in identifying and evaluating new adaptive traits for heat and drought in wheat. The team has also provided remote sensing data to improve genomic selection models for the Accelerating Genetic Gains in Maize and Wheat (AGG) project.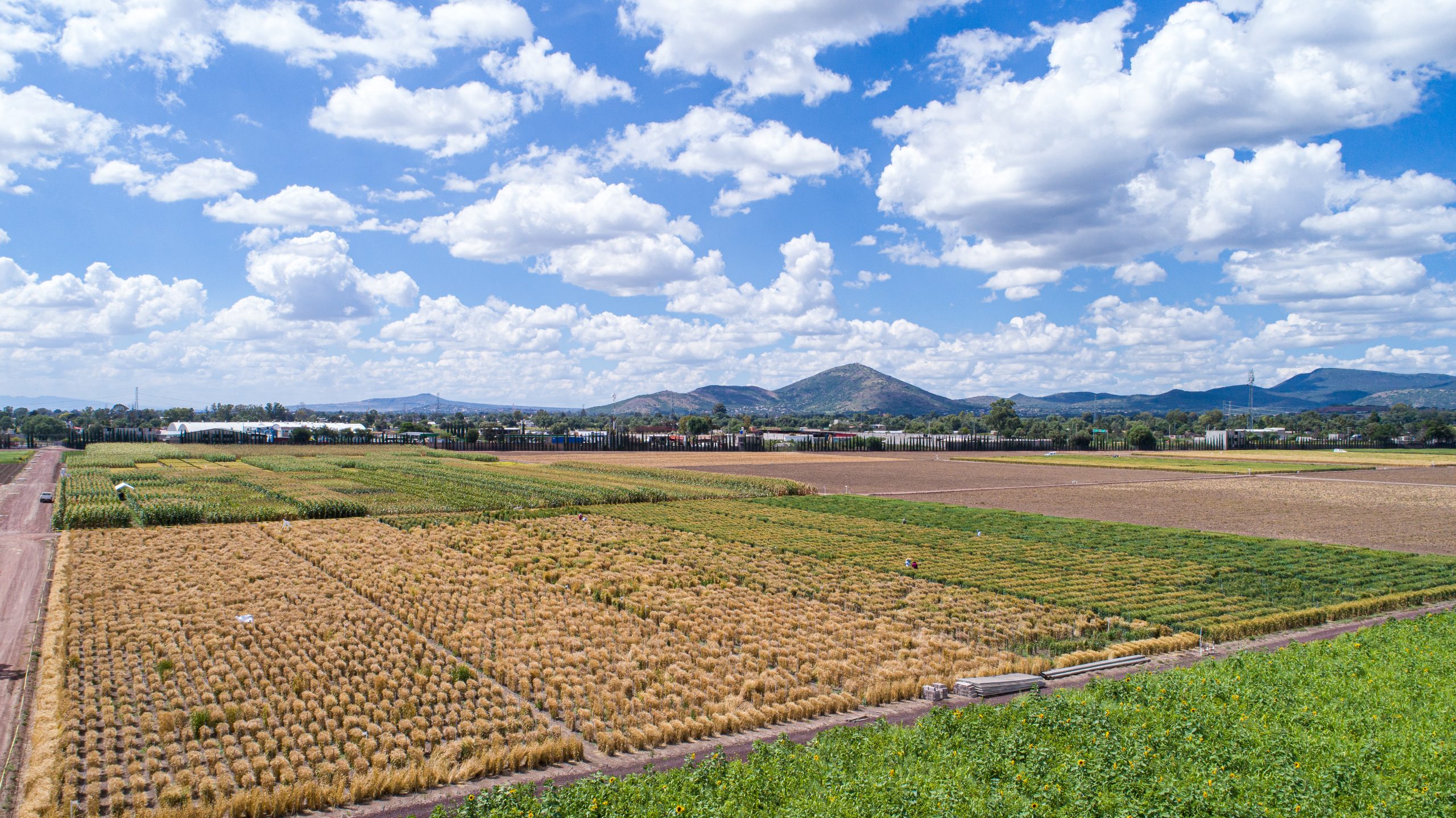 This work would not have been possible without the support of the Bill & Melinda Gates Foundation, the Biotechnology and Biological Sciences Research Council (BBSRC) of the United Kingdom, the Foundation for Food & Agricultural Research (FFAR), Mexico's Secretariat of Agriculture and Rural Development (SADER), and the United States Agency for International Development (USAID), who provided the needed funding.