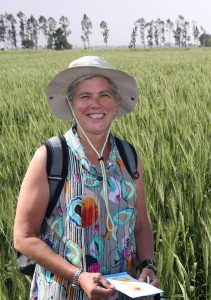 As I write this letter in the spring of 2022, I am looking at the world amid a "perfect storm" and contemplating the bold and accelerated actions we must take to face our present and the future with the required resolve.
The challenges facing the globe over the years continued to batter the world's farmers and consumers in 2021.
The COVID-19 global pandemic eroded hard-won gains in food and nutrition security, poverty reduction and gender equity, and showed signs of becoming a permanent fixture in our lives.
Despite efforts from the global community to reduce global warming, climate change is striking farmers — especially resource-poor smallholder farmers — with brutal drought, heat, and flooding.
And it is impossible to ignore the third part of this "perfect storm": the Ukraine-Russia crisis, and the resulting global food shortage, high food prices, hunger, and malnutrition — not to mention tragic loss of life and destruction — it is leaving in its wake.
Food security is critical to maintaining peace. Yet the actions and investments going into food security are not enough to drive the level of change required to prevent another catastrophe for the most vulnerable members of society. Key stakeholders, although united in this opinion, have not as of now followed through with concrete commitments to ensure that we turn the tide in humanity's favor.
The mission and work of CIMMYT have never been as critical as they are today.
I am incredibly proud of and humbled by the commitment of CIMMYT's staff and scientists, which has led to continuous research and partnership outcomes to empower millions of smallholder farmers through science and innovation.
CIMMYT staff and scientists know how to think globally and act locally and regionally to apply pragmatic tools to serve a global science program.
In just a few examples, the Accelerated Varietal Improvement and Seed Delivery of Legumes and Cereals in Africa (AVISA) project showed how CIMMYT's expertise and strong partnerships could translate to more farmers and additional crops: bean, cowpea, groundnut, millet, and sorghum. Likewise, CIMMYT's expertise in cutting-edge technology is expanding the use of biodiversity held in the world's genebanks to develop new climate-smart crop varieties for millions of small-scale farmers worldwide with the Allele Mining project.
2021 also marked a turning point in the reform of CGIAR, where CIMMYT has taken a valuable role in the development of the CGIAR 2030 Research and Innovation Strategy, aiming for impact in the face of the interdependent challenges facing today's world. Recently, the CGIAR System Board and System Council reviewed and approved the Investment Prospectus 2022–2024 and designated financing for 31 Initiatives, opening the door for CIMMYT scientists to propose new research initiatives with innovative and cross-cutting vision to delineate the future path of the organization's science while delivering impact at larger scales than ever before. I am excited to inform you that CIMMYT will participate directly in 21 of these new CGIAR Research Initiatives, and that 5 of them are headed or co-led by CIMMYT researchers.
CIMMYT has been able to reach these extraordinary achievements, despite financial hardship, with the greatly appreciated support of our funders. We are well aware that every dollar spent on overhead is a dollar less for our key stakeholder, the smallholder farmer. We are committed to working with CGIAR to streamline and simplify, with a clear focus on our talented scientists and staff in the fields and labs.
CIMMYT continues to provide the pragmatic tools and research methodology applied locally and regionally that, with the right actions and investments, will contribute to achieving the level of change required to prevent further catastrophic disruptions in the most vulnerable people's access to food.
CIMMYT's impact would not be possible without steady leadership. I am honored to take the role of Chair of CIMMYT's Board of Trustees, and to carry forward the important work of my predecessor, Nicole Birrell.
Our job is to make food security a right, not a privilege.
Margaret Bath